Repair Café Recap - August 2021
As summer winds down, Repair Café heats up – this time, with 4 successful repairs and a concurrent exhibition.
We held this month's event on August 29 as the interactive "Technology for Non-Humans," hosted by RCO volunteer Dylan Cawthorne, took place in our blue exhibition space next door.
Special event in September: This month, you have two chances to get your things repaired! RCO will be at the 30th annual Fjordens Dag, an environmentally-focused outdoor event for the whole family hosted by the fjord on Stige Ø. (It matches perfectly with our goals!) Learn more on their Facebook event.
So, before we say a little about the interaction between technology, nature, and art, let's get to the stats: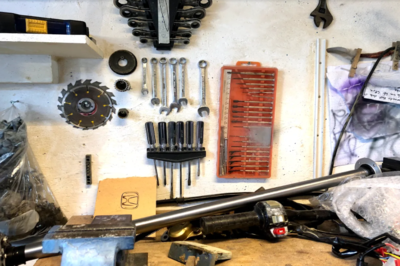 August 2021 stats
Items seen:
🌬 Dusty laptop 

🕐 Wall clock

🚲 Bike lamp

🎵 Stereo/amplifier
Items fixed / problem found: 
4/4
Success rate: 
💯
The amplifier is still in the process of being repaired, but we anticipate that our volunteer Ondrej will fix it successfully.
Stories from the August Repair Café
Here are two volunteers, Alain and Martin, fixing the laptop and clock respectively. Both the items were in need of cleaning as part of their repair.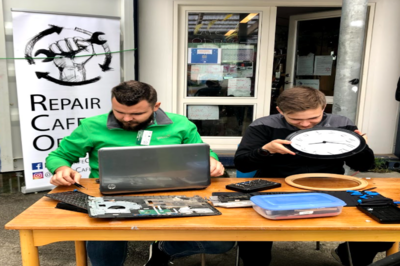 Alain disassembled the laptop, cleaned the dust out of it, and found that the fan needed to be replaced. If the owner brings a new fan, we'll help him put it in. Martin found that the clock had an internal contact issue, and worked like new after cleaning.
Our bike expert Eric repaired a bike lamp for a happy owner who can now dominate the open road in the dark again.
Ondrej, a noted repair manual enthusiast, is actively working on the amplifier. He was able to identify that the left channel doesn't work and is now investigating what component is causing the problem. With the help of the manual, it will soon be back to life 👍
Technology for non-humans
At this unique exhibition, put together by volunteer Dylan, engineers, artists, and thinkers came together to give new meaning to the plant life all around us… 
…namely, what might our future plant overlords watch on TV? Or how can a cactus provide a good metaphor for the impact the pandemic had on people?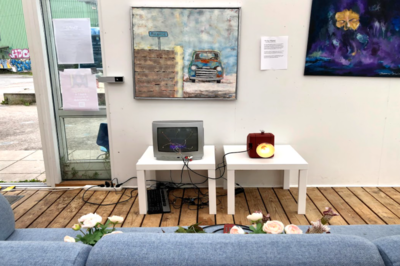 In "TV for Plants," a flashing light translated abstract TV programs into a 'language' the plants could understand as they relaxed on the couch. The plants were able to use signals to change 'television channels' as they pleased via remote control. Green Mirror, anyone? 🌵
Meanwhile, our own engineer Ondrej teamed up with a local artist to create "Leave Me Alone." A cactus sat on a motorized platform programmed to turn away anytime someone got too close. When the viewer backed up again, the cactus would emerge again. Some of us introverts can certainly relate 😅
Remember to come see us in September
Don't be shy like the cactus! See you next on Sunday, September 26 AND in a couple weeks at Fjordens Dag!
Do you love our work? Consider a donation to support us: