On the second Sunday of September, Repair Cafe Odense had the pleasure of participating in one of Denmark's largest and oldest nature events – Fjordens Dag. Each year, this event attracts around 30,000 visitors and is organized on 4 locations around the island of Fyn: Klintebjerg, Boels Bro, Seden Strandby, and Stige Ø.
This year, the spotlight was on the environment, including climate change and pollution. 
On Stige Ø, more than 25 organizations participated, talked about their purpose, and explained what they do and why they do it.
The whole event was family-oriented and many families with young children joined. This comes as no surprise, as there were many fun activities organized for the little ones. We thought the jam session on garbage bins was pretty fun. But it wasn't all about entertainment – it was educational as well. For example, we enjoyed the HeartBeat group's play about the climate and recycling.
While all this was happening, our volunteers were pretty busy…giving out business cards. In fact, we broke our record for the most business cards given out! 
The visitors were curious about what we do and they wanted to know more about our little café. It's safe to say we expect some new faces at the next monthly event.
Event stats:
Items: 
radio
plastic hammer
mobile phone
3/3 items repaired for a success rate of
The first repaired item was a radio. As it often is with electronics, certain components only need to be cleaned, which is exactly what Alain did. After that, the radio worked perfectly!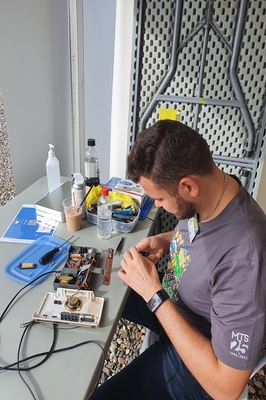 The second item was a toy and it belonged to the youngest RCO visitor so far, 4-year old Simon. We were very glad that in the end, Alain managed to fix his plastic hammer.
The final item was a mobile phone that wasn't charging properly. The charging port needed a thorough cleaning, as dust and different fibers can often block the port. Although it was a simple fix, it highlights an important truth: Sometimes a small issue that can be solved in a couple of minutes can lead to the owner's decision to buy a new item and toss the old one.
It's a good reminder that repair is not only good for your wallet, but also for the environment.
All in all, it was an amazing day! We had fun, we repaired some things, we learned many new things and we will definitely be back next year!
Keep in mind that Fjordens Dag was a bonus event this month – so remember to come see us at the monthly event, as always, on the last Sunday of the month, from 1 to 4 pm. This month, it's September 26.