Repair Café Recap - September 2021
Ah, September – back to school, cooling temperatures, leaves starting to change 🍂 We thought the end of summer change might make people want to hide; instead, we had our largest event for the last few months, and we couldn't be more excited!
This month, our friends at "Chat in Danish" visited Repair Café to take a look around, have a few items repaired, and, well, chat a little in Danish 🗣 Since many of our volunteers are internationals, this was welcomed and very helpful.
P.S. Are you Danish and interested in repair? Let us know – we'd love to have you!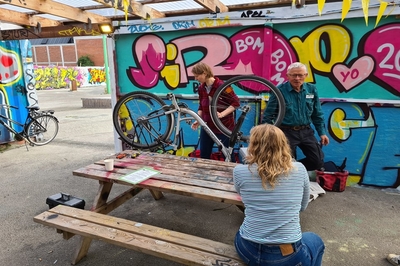 September 2021 stats

Items seen:
Toy train
Blender
Dress
Cardigan
Pants
Alarm clock
Weight scale
2x bike lamps
Bike tire
Bike adjustments
Items fixed / problem found:
7/10
Success rate:
%
In some cases, we weren't able to find the issue with the device, or aren't able to fix the item ourselves. But a rate of 7/10 isn't too shabby!
Stories from the September Repair Café
Well, this was a busy event! We had bikes, we had electronics, we had clothes, and we certainly had all volunteers working hard.
Thank you to our dedicated volunteers – Martin, Lærke, Alain, Jørgen, Kim, Birgit, Mariagiulia, Dylan, and Thomas – all of whom helped service items this month.
In particular, we had 3 items of clothing to fix, which is where our volunteer Dylan really shined. Some of the clothing owners had never used a sewing machine before, and for others, it had been years.
But it's not as intimidating as it looks, and after some support and a few instructions from Dylan, the owners were off and repairing their own clothes. 
We hemmed the sleeves of a dress, and tried to fix a hole in another one – but some repairs like this are best done by hand with needle and thread. 
We found some of our tools lacking, but that's actually great news, since it was a sign to invest in better scissors, pins, and needles. We've got them now so we can help you repair your clothing better. 
Otherwise, this event's biggest item – at a whopping 3000g – was a household blender. Though it's no longer peak smoothie season, this remains a great way to make a refreshing drink.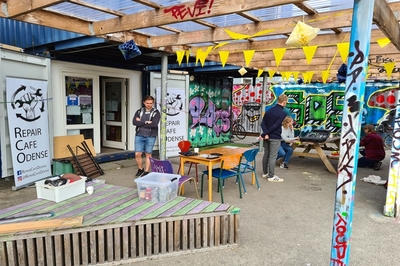 And with that, we leave you for the month! Thank you for reading and for patronizing RCO. Check out our other blogs and be sure to come to our next event. You can bring all your broken items to us, we are not afraid to fix them.
We can't wait to see you on Sunday, October 31… spooky 🎃. 
Do you love our work? Consider a donation to support us: