Repair Café Recap - May 2022
Hello again…and again! 
We had our first double event this year thanks to the Odense Havnekulturfestival, a weekend festival at the Odense harbor with music, food and entertainment. 
There was gorgeous, sunny weather, which we complemented with our non-alcoholic mojito welcome drink to keep everyone cool ✌🍸
We were so happy to see a few guests showing interest in repairing their own items, coming for support, guidance, and tools they might not have.
We also supported volunteers Dylan and Ondrej this month in another installation of the Technology for Non-Humans series, which we've hosted at the RCO showroom in the past!
May 2022 stats
This month, we saw 20 different items across two days for an estimated total of 36,7kg of items whose life we helped extend.
Here's a selection of items seen:
⚙ Lawn mower

🍎 Blender and hand mixer

💻 Laptop

👷‍♂️ Driller

💧 Kettle

💿 DVD player

👗 Nightgown

☕ Coffeemaker

🪔 Oil lamp – a first!

🔧 Various bikes and bike adjustments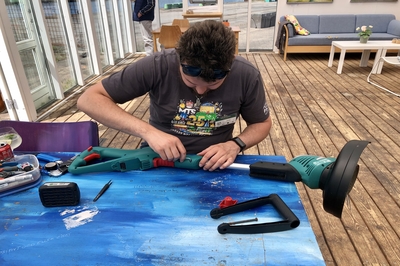 Items fixed / problem found: 
11 of 14 (a few unknown or requires another visit)
Success rate: 
7️⃣9️⃣%
We were able to fix a good amount of bikes and electronics this visit. Sometimes, an extra part is needed that the guest doesn't have (we welcome you to return with it when you do). In a couple cases, like the oil lamp, we weren't able to fix the problem.
Stories from the May Repair Café
First, a quick note about Technology for Non-Humans, exploring tech from a non-human perspective and curated by our very own volunteer Dylan. 
This exhibition featured a motorized tree held up by a custom-made structure. When charged, the tree is able to move around on wheels. It brought up questions like, "How do trees communicate? How do humans and tech interact? 
"Forget what you know about engineers and think of us as artists today using tech as our paintbrush," Dylan said at the reception. 
The piece featured many reused and repurposed materials, from the tree to the motors. (And yes, the tree was safely returned to the ground afterwards!) 🌳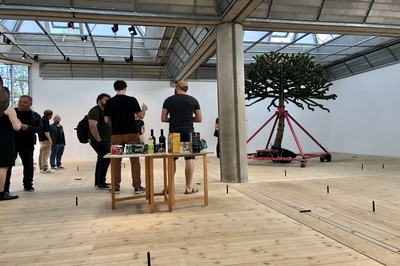 ***
Now, for our double event.
It seemed like people enjoyed the mojito welcome drink, made from just 5 ingredients! If you have any thoughts for another welcome drink to debut at a future event, please let us know and we'll try it out 😉
At the beginning of our Saturday event, a guest came to find out information and ended up helping someone fix their handheld blender. Thank you, kind stranger!
We saw a number of returning guests, as well as those that had referred a friend. Thanks so much for your support here 🙏
We were also happy to see some guests showing interest in fixing their items themselves. For example, volunteer Dylan taught volunteer Chloé (that's me!) how to adjust her bike brakes.
One guest came with an iFixit kit – known for their support of the Right to Repair movement – and another guest helped her work on the coffeemaker part while waiting for his keyboard to be repaired.
We also saw a first-ever item: an oil lamp that has been in the guest's family for two generations! 🪔 It took some quick thinking, strength, and paper towels to help us unscrew it and identify the problem, but unfortunately once unscrewed, it wouldn't come back together. Instead, we sent the owners off with another plan.
What's coming up next?
Our next event is Sunday, June 26th. We know summer is a busy time for many of you, so be sure to come by before you go on holiday 😊
Thank you for your commitment to repair, for bringing your items, and for spending just a few moments with us. Be sure to tell your friends and donate if you can – we really appreciate your support.
P.S. We are always looking for volunteers, especially Danish speakers. Don't hesitate to reach out at info@repaircafeodense.dk 📧
Do you love our work? Consider a donation to support us: