Repair Café Recap - January 2023
Happy New Year! How have you been reducing, reusing, and repairing so far?
We love to see returning as well as new visitors at our events. The first event of the year was no exception, with 15 total items seen across 12 unique visitors.
Let's explore! And while you're here, don't forget to write down Sunday, February 26, the date of our next event 📅
January 2023 stats
We finished last year on a great foot, so it's only fair we start the new year on a great one too!
Here's what we saw this month:
🔌 Charger and extension cord

☕ Coffee machine

💻 Computer

📻 3 radios! Plus one vinyl player

👶 Baby car seat

💡 Lamp and flashlight

🌬 Hand vacuum

🎧 Headset

👜 Reusable shopping bags*

👖 Pants*
*Psst… did you know we repair clothes as well? Our clothing specialists would love to help teach you how to fix your favorite outfit.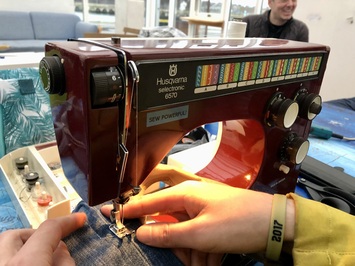 Items fixed / problem found: 
11 of 15
We couldn't find the problem with one item, and one item is too damaged to be fixed.
Three items are in the process of being fixed right now 💪
That leaves us with…
Success rate: 
7️⃣3️⃣%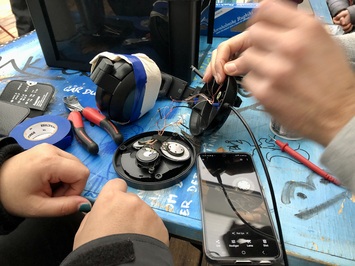 Stories from the January Repair Café
With tons of Repair Cafe visitors comes tons of responsibility. That's why we were glad to see so many volunteers come. 
We were 10 returning volunteers, with 2 new potential volunteers coming to check it out. Having such a big group enabled us to take a look at your items more efficiently.
Our electrical specialist Romain worked on a radio, a flashlight and much more.

Various volunteers, including Ondrej and Daniel, took a look at a computer with a battery problem. They fixed it! Teamwork 🎉

Volunteers Kim and Kenneth put in some dedicated work taking apart a baby car seat with an electrical issue. Unfortunately, this was the only item where we couldn't find the problem. This was the first electric car seat we've seen!
Otherwise, January was all about music lovers — we saw 3 radios. Hopefully the owners have returned to their tunes 🎵
Plus, a couple people stopped by to ask whether it's possible to fix an item during the next event. We always welcome your questions!
Some of our volunteers brought items to repair as well, including a vinyl player, reusable shopping bags, and a pair of pants. (Who says we can't learn new things?)
Speaking of which… teaching you to repair!
Repair Cafe Odense was founded as a helpful and organizational resource. It's important to us that we're not just repairing your items, but teaching YOU to repair them too. 
Come curious — and we'll do our best to involve you in finding the problem while explaining how to fix it, so you can try it out yourself on your bikes, electronics, and clothing.
We love answering your questions ✅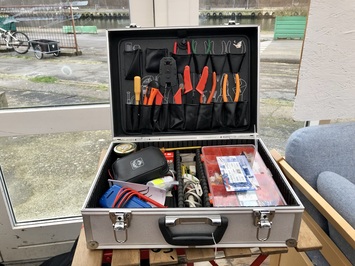 Thanks for reading this far! If you're interested, check out our guide on making Green Resolutions.
Remember, Repair Cafe has volunteers of all ages and nationalities. If you're interested in helping spread the right to repair movement, don't hesitate to reach out at info@repaircafeodense.dk 📧
What's coming up next?
📅 February 26 — regular repair event
Gather your items and get ready to repair. You'll find us in our container at Den Blå Kvarter.
Bike season's coming up, so don't be shy — bring yours around for a tune-up! 🚴‍♀️
Do you love our work? Consider a donation to support us: