Repair Café Recap - February 2023
How are you faring in this cold? Though we are fresh off our second event of the year, held in the exhibition room next to our container, the RCO volunteers are hopeful that spring will come soon.
Our next event is on Sunday, March 26, so be sure to note it down 📅 We recommend tuning up your bikes for spring and bringing any winter clothes you want repaired before you put them in the closet for next year 🤞
February 2023 stats
Here's what we saw this month:
💿 vinyl player

🍞 toaster

📺 TV screen

☕ coffee machine

💻 PC

🚴‍♀️ bicycle

🍃 vacuum cleaner

😎 mirror

💧 water pitcher
*Psst… did you know we repair clothes as well? Our clothing specialists would love to help teach you how to fix your favorite outfit.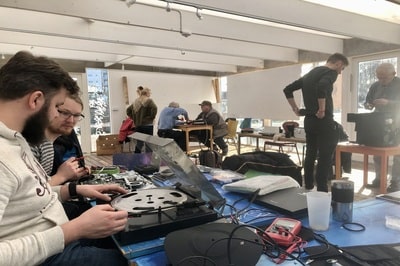 Items fixed / problem found: 
8 of 10
The two items left out here are still in the process of being fixed, or currently unknown. They still may be fixed!
That leaves us with…
Success rate: 
8️⃣0️⃣% (or more!)
Stories from the February Repair Café
The name of the February game was intensive repairs 💪 During the event, we saw lots of heavy-duty electronics.
Our chairman Alain worked on fixing fellow volunteer Roberta's vinyl player, right next to Kenneth, who took on a flat TV screen.
Daniel spent his time helping a visitor with their coffee machine. A screw got loose and fell through out floorboards 😅 BUT we found a solution.
As you can see, we saw a few big items that needed a little extra love.
That includes this toaster, which our volunteer Romain worked on for most of the event!
Helpful volunteers even stayed after the event to continue fixing it. That's dedication 💗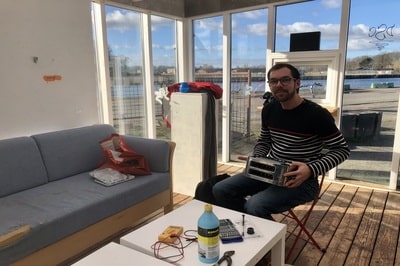 Let's talk about… teaching you to repair!
Repair Cafe Odense was founded as a helpful and organizational resource. It's important to us that we're not just repairing your items, but teaching YOU to repair them too.
Come curious — and we'll do our best to involve you in finding the problem while explaining how to fix it, so you can try it out yourself on your bikes, electronics, and clothing.
We love answering your questions ✅
Remember, Repair Cafe has volunteers of all ages and nationalities. If you're interested in helping spread the right to repair movement, don't hesitate to reach out at info@repaircafeodense.dk 📧
What's coming up next?
📅 March 26 — regular repair event
You'll find us in our container at Den Blå Kvarter.
We hope to see you in lighter jackets than we need right now 🙈 Bring your bikes, clothes and electronics… and see you then! 🚴‍♀️
Do you love our work? Consider a donation to support us.