Repair Cafe Recap - March 2023
It's been another chilly yet successful month at Repair Cafe! Besides looking forward to spring, we have lots to share with you this month.
Most importantly, note down our next event before we get started: Sunday, April 30 📅
Not only is it the last Sunday of the month, it's an opportunity to spend the entire last day of April rededicating yourself to repair by tuning up your bikes, electronics, and wardrobe with us!
We also have some warm weather events coming up (like our T-Shirt Upcycling Workshop at the Odense library April 24), so be sure to read all the way to the end.
March 2023 stats
Here's what we saw this month:
💿 VHS + DVD reader

☕ two coffee machines

🚴‍♀️ two bicycles

🕺 disco light

⌚ watch

🛴 scooter

🍎 blender

👚 shirt
*The shirt was brought and repaired by one of our volunteers! If you'd like to brush up on your clothing repair skills, we'd love to teach you how. More on that in a sec.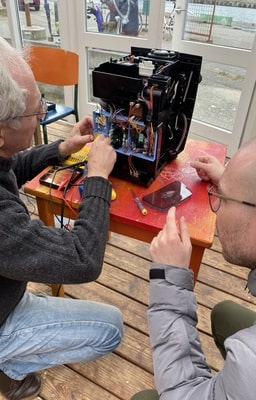 Items fixed / problem found: 
10 of 10
Oh how we love to say this…a perfect success rate! 💯 (The emoji is so satisfying.)
Success rate: 
1️⃣0️⃣0️⃣% 
Stories from the March Repair Café
This is our first event since we had our Repair Cafe Odense General Assembly in mid-March! There are some exciting changes in our board: Former Chairperson Alain Kovacs has stepped into the role of Treasurer, while Roberta Poškaitė becomes our new Chairperson. 
Roberta is a multi-talented leader with experience in textile repair, event planning, and social media. She's already bringing renewed energy to our efforts to spread the word about RCO and expand our capabilities — to support you in repair while lightening the load just a bit on the environment.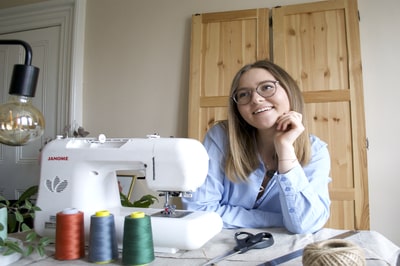 Here's what Roberta says about becoming RCO Chairperson:
"I have a very personal relationship with Repair Cafe Odense, and so becoming Chairperson means a lot to me. RCO was the first volunteer organisation that I joined after moving to Denmark. Here, I found a community of like-minded people who care about sustainability, a green mindset, and helping each other.
My new role is definitely challenging and thrilling for me. I aim to continue the great work that our team put into establishing and growing this organisation, and spread the word further — I feel there is so much potential in what we do, and I'm excited to help use our energy to execute ideas that familiarize more people in Odense with our activities!"
Learn more about Roberta and our team here.
Otherwise, we had a buzzing event with 8 guests and 10+ items — and as we've already mentioned, a whopping 100% success rate. 
That includes volunteer Chloé, the writer of this blog (hi 👋). She learned how to use a sewing machine in school as a kid, but hasn't used one since. So Roberta helped her to tailor a lovely patterned shirt that was too big. (Who says our volunteers can't learn new tricks?)
I — we mean Chloé — is really looking forward to learning more clothing repair skills at future RCO events. It's a great opportunity to refresh a piece of your wardrobe!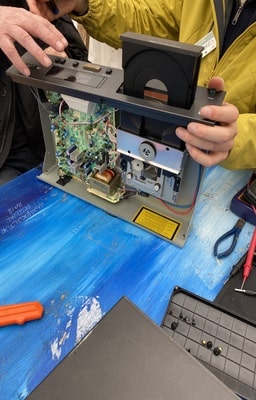 Regarding other items, we've seen more coffee machines than usual in our last couple events. This suggests that our visitors are wonderfully caffeinated people just like us ☕
Speaking of which, we brought the cafe back to Repair Cafe with some coffee, hot water, and cookies. We hope you enjoyed the refreshments 🍪
The event started with a new volunteer onboarding session, featuring three new enthusiastic and helpful volunteers! You can look forward to meeting them at our April event, too.
Remember, Repair Cafe has volunteers of all ages and nationalities. If you're interested in helping spread the right to repair movement, check out our volunteer page — which volunteer Oli has just added to our website — to learn more, and reach out at info@repaircafeodense.dk 📧
What's coming up next?
Write these dates in your calendar and join our Facebook events.
📅 April 24 — T-shirt Upcycling Workshop at the Odense library 
Join us from 16-19 at the library! We'll get creative and make a new favourite T-shirt for summer. 
As a part of the Craftivism festival in week 17, we will run a workshop on how to save old T-shirts and reduce textile waste. We will be upcycling T-shirts using the collage technique: adding other textile pieces, accessories and elements on an old T-shirt to create a piece of art that you can wear! 
📅 April 30 — regular repair event
You'll find us in our container at Den Blå Kvarter from 13-16.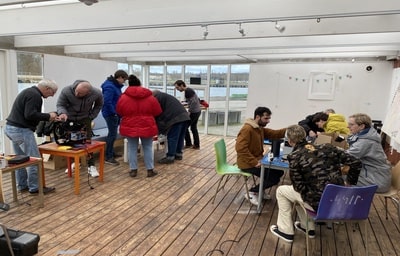 Finally, let's talk about… teaching you to repair!
Repair Cafe Odense was founded as a helpful and organizational resource. It's important to us that we're not just repairing your items, but teaching YOU to repair them too.
Come curious — and we'll do our best to involve you in finding the problem while explaining how to fix it, so you can try it out yourself on your bikes, electronics, and clothing.
We love answering your questions ✅
Do you love our work? Consider a donation to support us: