Repair Cafe Recap - May 2023
It's officially summer in Odense! Our May event took place outside in front of our container at Den Blå Kvarter with lots of chats, camaraderie, and, of course, repair!
Please note that we have TWO repair events in June:
📅 Thursday, June 15 we'll be doing an event in collaboration with Bronx 5200 (scroll to the end for more information!) 👇
📅 Sunday, June 25 we'll be at the container, doing our thing!
Be sure to mark them down ✍
May 2023 stats
Here's what we saw this month:
🚴‍♀️ 3 bicycles

⚖ kitchen scale

🧂 pepper mill

🪓 cordless sander

🖼 picture frame

☕ coffee machine

💻 laptop

🏡 lawn mower battery
We had a few more visitors stop by with interesting items that we'll work on during the summer.
*Psst… did you know we repair clothes as well? Our clothing specialists would love to help teach you how to fix your favorite outfit.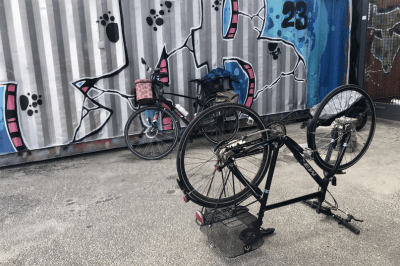 Items fixed / problem found: 
8 of 10
One visitor must still try out their repaired item at home, so it's possible we can add that to our "fixed" list. The laptop was the only item we were not able to fix.
That leaves us with…
Success rate: 8️⃣0️⃣% (or more!)
Stories from the February Repair Cafe
It was a pleasure to greet you outside this month. Though our three-hour event saw some variations in temperature — from overcast and chilly to sunny and warm — the repair show went on without delay 😎
One special feature of this event is the "Uptainer" project, which an SDU student set up in front of our container. SDU usually hosts e-waste bins at the university, but they've recently been emptied. We now have a bookshelf with some radios, cables, keyboards, and other equipment that is FREE to take or exchange (self-service). Be sure to read the instructions and safety signs.
During this event, our volunteers worked on and helped visitors with multiple bike repairs. It's always a great option to keep your bikes in proper working order 🔧
Our Chair Roberta used the event to rescue and restore a secondhand picture frame.
We also saw a couple of coffee machines — and we completely understand, as coffee is important to keep YOU in proper working order. One coffee machine was in need of a spare connector that we didn't have at the container. Dedicated volunteer Jørgen biked home to get one, while volunteer Romain disassembled it, installed the connector, and reassembled it with lots of focus. 💪
Thanks to our visitors, as always, for your generous donations!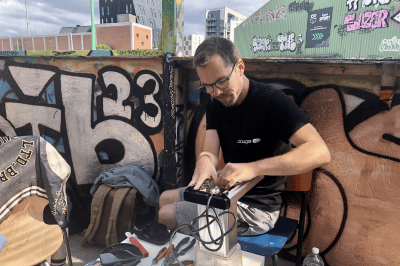 Let's talk about… teaching you to repair!
Repair Cafe Odense was founded as a helpful and organizational resource. It's important to us that we're not just repairing your items, but teaching YOU to repair them too.
Come curious — and we'll do our best to involve you in finding the problem while explaining how to fix it, so you can try it out yourself on your bikes, electronics, and clothing.
We love answering your questions ✅
Remember, Repair Cafe has volunteers of all ages and nationalities. If you're interested in helping spread the right to repair movement, don't hesitate to reach out at info@repaircafeodense.dk 📧
What's coming up next?
You're in for a treat. RCO has added an extra monthly event for you to enjoy!
📅 June 15 — Bronx 5200, 17-20. This will be a repair event. From August, we may combine it with an educational Sustainability Talk. More info on that soon!
*Please note there is no Bronx repair event in July due to summer holidays.
📅 June 25 — regular repair event, 13-16. You'll find us in our container at Den Blå Kvarter.
We hope the extra event brings you more opportunities for repair in more corners of the city. Hope to see you there!