Repair Cafe Recap - June 2023
While some people slow down and go on holiday, others stay behind contemplating coffee machines that don't do what they should! No matter when you come back from your summerhouse, our dedicated volunteers are here to teach you how to repair twice a month.
What should you plan for this month?
📅 Sunday, July 30 is our regular event at the container by the harbor.
📅 Thursday, August 10 we'll enjoy a sustainability talk and repair event at Bronx 5200.
We hope you'll join us! 🎉
June 2023 stats
Here's what we saw this month, from our combination of events at Bronx and the container:
🚴‍♀️ 2 bicycles

🖨 printer

📻 radio

🚿 shower heater

☕ 3 coffee machines

🩳 2 pairs of shorts

💧 water kettle

🔊 speaker

📳 smartphone
We know that the demand for coffee is high at all times of the year in Denmark — the country is consistently in the top 5 of coffee consumers in the world — but it's especially high at Repair Cafe Odense this summer.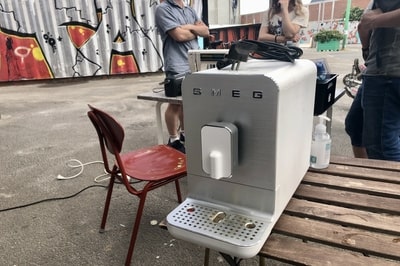 Items fixed / problem found: 
11 of 12
We had a super-successful repair rate this month! Occasionally it happens that repairs require parts that need to be bought — still, our trusty volunteers were able to handle most of the items with style.
This month, that leaves us with…
Success rate: 
9️⃣2️⃣% (okay, 91.66666…) 😁
Stories from the June Repair Café
In addition to the repair of multiple coffee machines, we have some exciting news: One of the coffee machines belongs to us!
That's right, you can now get a freshly made cup of coffee each month at RCO ☕🔥
Sometimes these repairs are a team effort — so thanks to Kim, Simon, and Ondrej, who collaborated to make the new coffee machine a reality!
Other repairs are short but significant. For example, Ondrej helped a visitor with an easy phone repair that really improved his day!
Thanks to our visitors, as always, for your generous donations 💙
P.S. Let's talk about… teaching you to repair!
Repair Cafe Odense was founded as a helpful and organizational resource. It's important to us that we're not just repairing your items, but teaching YOU to repair them too. 
Come curious — and we'll do our best to involve you in finding the problem while explaining how to fix it, so you can try it out yourself on your bikes, electronics, and clothing.
We love answering your questions ✅
Remember, Repair Cafe has volunteers of all ages and nationalities. If you're interested in helping spread the right to repair movement, don't hesitate to reach out at info@repaircafeodense.dk 📧
What's coming up next?
See you on Sunday, July 30 is our regular event at the container by the harbor and Thursday, August 10 for our sustainability talk and repair event at Bronx 5200.