Repair Cafe Recap - September 2023
September was a busy month for RCO! Not only did we have the opportunity to join exciting events, but we also got to connect with our community and spread the message of sustainability. 
Let's take a look back at all the amazing events from this month!
Teambuilding Workshop – September 2nd 
To kick off the month, we gathered for a special team-building workshop. We started with a thought-provoking activity focused on climate change, which helped deepen our understanding of this pressing issue. Following the workshop, we fired up the grill, enjoying delicious food and each others company.
Fjordens Dag på Stige Ø – September 16th 
Next up was "Fjordens Dag på Stige Ø" on September 16th, where we engaged with many citizens eager to learn about sustainability. We talked about our organization and our mission to promote repair, reduce waste, and contribute to a greener future. It was encouraging to see so many people interested in what we have to say.
International Welcome Day – September 23rd 
On September 23rd, we joined International Welcome Day at Odense Library. Here, we had the opportunity of interacting with internationals living in Odense. We shared our mission and encouraged them to join our events.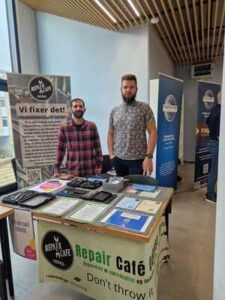 Repair Events – at Cafe Bronx and Det Blå Kvarter
There wouldn't be Repair Cafe without Repair events – our core mission revolves reducing waste by repairing items to extend their lifespans. In September, we hosted two repair events – one at Bronx Cafe on the 7th, and the other at our usual spot, Det Blå Kvarter on the 24th of September.
The September numbers speak for themselves. We saw a total of 19 items!! From home appliances like coffee machines, vacuum cleaners to clothing repairs and bike fixes, our skilled volunteers and participants worked tirelessly to make a difference.
Items fixed/ problem found: 17/19
Success rate: 89.5%
Most often on our repair list:
Coffee machine

Vacuum cleaner

Radio

Water kettle

Toaster

Bicycles and many more 🙂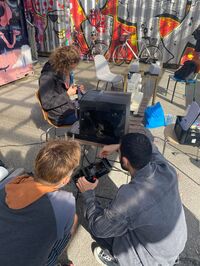 As we look ahead to the October events, we can't help but wonder how swiftly the year has passed. Did you know that we have only 5 repair events left until the end of the year?
In October you can find us at Cafe Bronx on the 5th of October, and at Det Blå Kvarter on the 29th.
If you enjoy our work, we invite you to support Repair Cafe Odense in any way you can. Whether it's attending our events, spreading the word about our mission, or making a donation, every contribution counts. 
Thank you for being part of the Repair Cafe Odense community! Here's to a wonderful October filled with sustainability, repairs, and positive change. 🍂🍁